A MACHINE CREATED FOR TRAINING
What are the reasons that make the CRAB an ideal training machine?
TRANSPORTATION: its innovative design allows the CRAB to be a light and easy to transport machine.
WORK RANGE: CRAB offers a range of resistances from 3 to 60 kg. These kilograms are direct traction. Compared to a traditional sled, they are equivalent to 1.5-3 times more depending on the friction surfaces.
DISPLAY: CRAB has a display that allows the athlete to select the kilograms with which he/she wants to traction or displacement.
ELECTRIC MOTOR: CRAB is equipped with a top quality electro-brake that guarantees a constant and lasting resistance over time throughout the rope's travel.
DISPLACEMENT: CRAB allows a displacement of up to 23 meters with very good rope recovery.
ROPE CHANGE: over the years, when it is necessary to change the CRAB rope, you can do it yourself. For this purpose, we have prepared an explanatory video with step-by-step instructions on how to do it.
ACCESSORIES: With optional battery, includes harness and mono-bilateral traction straps.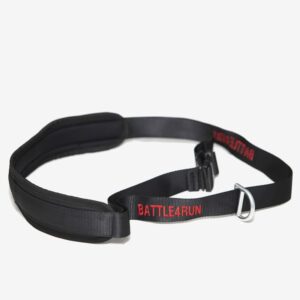 Harness
This harness will allow you to attach the CRAB to your waist or torso when training sprints (both forward and backwards) and direction changes.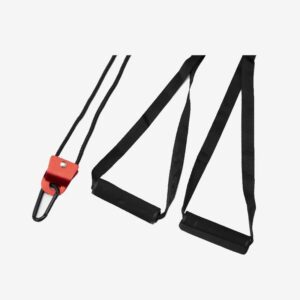 MONO AND BILATERAL TRACTION STRAPS
Use this accessory to train pushing and pulling with one hand, two hands, or alternating hands by using the pulley system.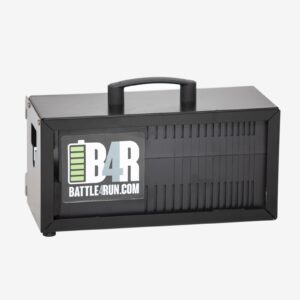 BATTERY
Portable battery that is easily removed and attached to the machine. A fully charged battery will provide up to 4 hours of continuous use without connecting to an electrical supply. Sold separately.
Here's what you'll find when you receive your CRAB. Let's open the box to see how easy it is to assemble it.
TECHNICAL CHARACTERISTICS
Dimensions: 850 x 508 x 442 mm
Packing dimensions: 800 x 600 x 600 mm
Machine weight: 53 Kg
Machine weight with packaging: 68 kg
Voltage / Power Watts: 230V – 50/60 Hz / 20W / Special voltage 110V – 50/60 Hz / 20W
Plug type Connection: C13
Connection cable: Shucko to C13
Pulling cable length: 23 meters
Pick-up: Retractable
Brake: Electro-brake
Transport: Wheels and handle
Working range: Min 3Kg (6,6 Lb) / Max 60kg (132 Lb)