REASONS WHY SLIDER IS A UNIQUE MACHINE
FIRST: Battle4Run Slider allows you to easily perform a functional workout with exercises carried out at maximum (or near maximum) range of motion. Slider allows you to perform a wide variety of exercises on one or two sliding platforms, especially stressing the eccentric phase of the movements.
SECOND: Slider's design guarantees uniform sliding without speed changes. It is a unique product that offers two movable surfaces or platforms that can be independently fixed allowing the use of one platform or both simultaneously. The platforms can be used with or without pads to cushion delicate body parts, such as the knees, elbows or hands.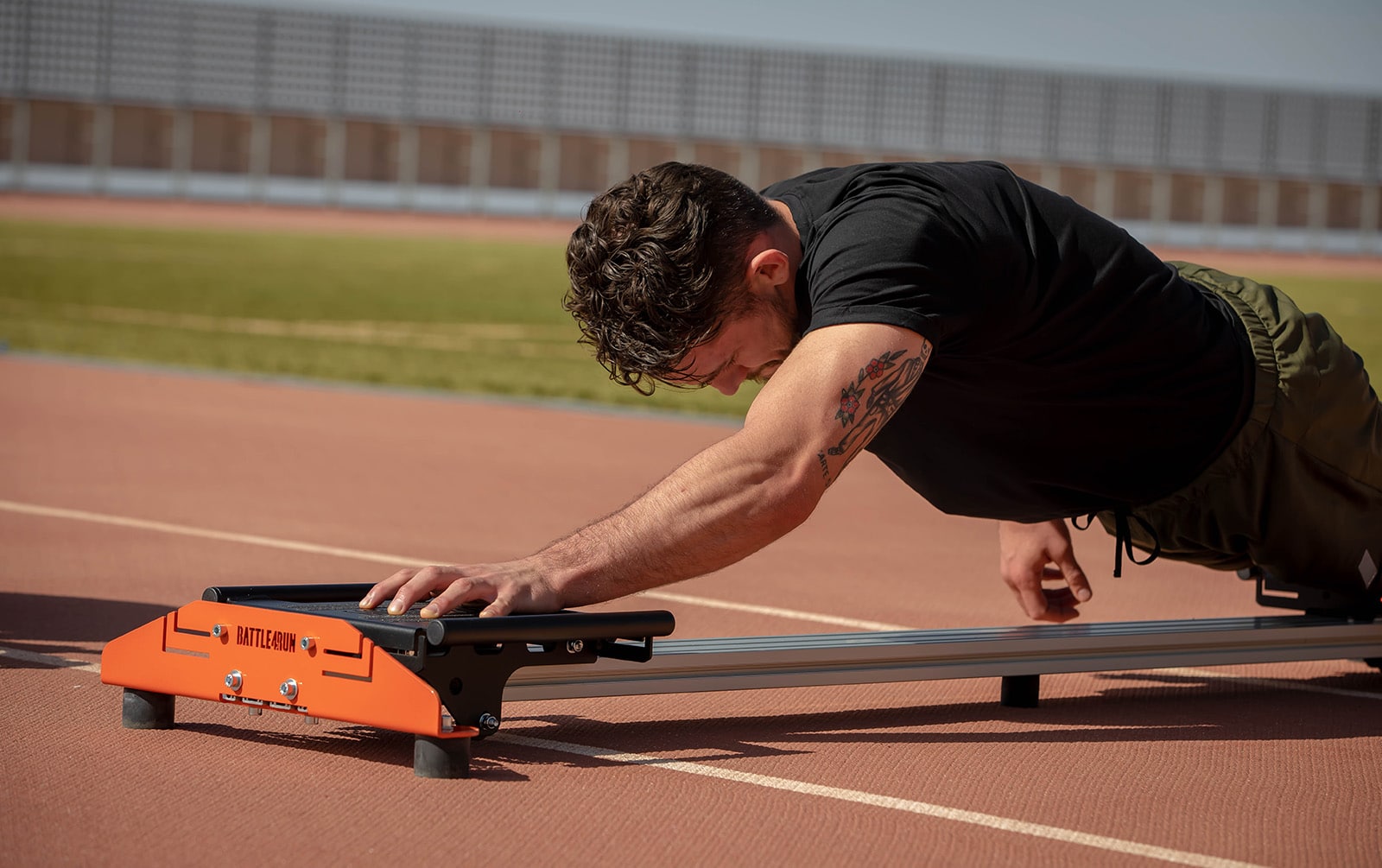 THIRD: Slider allows the user to define the total range of displacement through adjustable stopping mechanisms.
FOURTH: Slider allows you to increase the resistance or inertia of the movement through the use of mini elastic bands. BAttle4Run Slider includes two mini bands exclusively manufactured by Flexvit for Battle4Run. We are very pleased to collaborate with a company known for quality, adding excellence to our product.
FIFTH: Slider is extremely easy to transport (it weighs less than 20 kilograms) and stands out for its stability and robustness (it can withstand up to 140 kilograms).
With this unboxing we want you to see how easy it is to finish assembling your SLIDER. Once you receive the box you only have to unpack and do step by step what our partner shows you in this video. With these instructions you can start training with SLIDER from the same day you receive it.
TECHNICAL CHARACTERISTICS
Model : Slider
GUIDE PROFILE extruded in 6061 hardened T6 grade aluminum with silver anodized surface treatment.
30×30 cm steel PLATFORMS with non-slip surfaces and handles.
Movement LOCKS under each platform to select desired end points.
40 Shore RUBBER FEET provide ultra-non-slip grip.
40 Shore RUN-END RUBBER STOPS quietly cushion the end of each run.
STOP RUN ADJUSTMENT limits platform travel distance during the exercise.
SEALED BEARINGS on each wheel keep dirt out and ensure smooth and quiet long-term rolling.
MAINTENANCE: Slider does not need greasing.
STORAGE: Slider can be turned upside down and stored vertically.
Slider is a robust, silent, clean, grease and oil-free linear guidance system that does not need to be greased or lubricated. The self-lubricating polyamide wheels provide smooth and silent motion. The platforms' anti-tip system ensures safety and stability. The slider can be used on slopes or inclined at different heights without the need for support under the lower central stop.